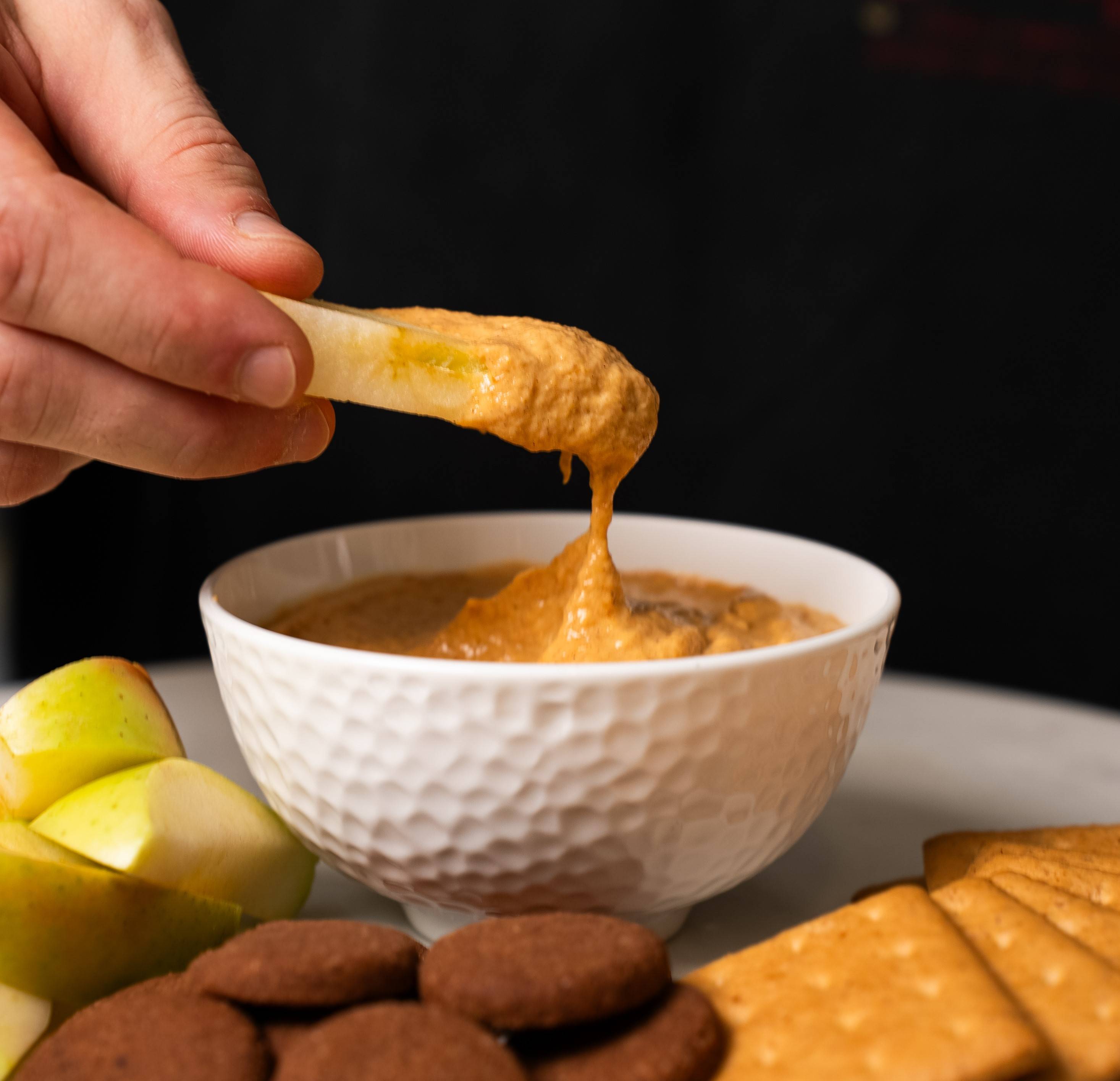 Embrace the flavors of fall with a wholesome twist! Our Healthy Pumpkin Pie Dip is the perfect seasonal indulgence you've been waiting for. Dive into the delicious world of nutritious goodness as we show you how to create this delightful fall treat. Let's celebrate the season and savor the taste of autumn with every guilt-free bite!
Simple, Delicious + Nutritious
Fall Party Favorite
Our Healthy Pumpkin Pie Dip is your go-to dish for festive gatherings and autumn celebrations. It's the ideal appetizer to kick off your fall parties with its delightful seasonal flavors that will leave your guests craving more.
Healthy Treat
Indulge your sweet tooth without the guilt! This recipe gives you a delectable, healthier alternative to traditional dessert dips. It's packed with wholesome ingredients and nutrition, making it the perfect treat to satisfy your cravings.
Kid Friendly
This recipe is not only a crowd-pleaser but also a hit with kids. Its smooth and creamy texture, combined with the warm, comforting taste of pumpkin, is a surefire way to get the little ones excited about a nutritious snack they'll love. Dip all your favorites into this one from bananas to apples or even graham crackers!
Ingredients:
1 cup of pumpkin puree
1 cup of Greek yogurt or vegan alternative (Seed to Spoon Oat Yogurt)
1/4 cup of Seed+Oat Butter
1/2 tsp of vanilla bean paste
2 tbsp of maple syrup
1/4 tsp of pumpkin pie spice
Pinch of salt
Instructions:
In a large bowl, combine the pumpkin puree, Greek yogurt, Seed+Oat Butter, vanilla bean paste, maple syrup, pumpkin pie spice, and a pinch of salt.
Mix everything until well combined, ensuring a smooth and creamy texture.
Once mixed, cover the bowl and refrigerate the dip to allow the flavors to meld. It's best if you can chill it for at least 30 minutes.
When ready to serve, prepare a selection of dippings. You can slice apples, provide graham crackers, or even offer cookies. These choices add variety to your dip and make it even more enjoyable for your guests.
Serve the chilled Healthy Pumpkin Pie Dip with the prepared dippings, and enjoy!
Pro Tips:
Feel free to adjust the sweetness to your preference by adding more or less maple syrup.
For a festive touch, sprinkle some additional pumpkin pie spice, ground cinnamon, or nutmeg on top before serving.
Try different dipping's like carrot sticks, pretzels, or even cinnamon pita chips for an exciting twist.
Why We're Smitten
We're head over heels for our Healthy Pumpkin Pie Dip, and it's not just because of the creamy fall flavors that give each bite a warm, cozy hug. Nope, it's the secret weapon – our Seed+Oat Butter – that adds that nutty twist, making each scoop a delightful adventure.
But what really makes this recipe a standout star is its boundless versatility. You can count on it to be the life of the party, the healthy dessert you've been dreaming of, or the superstar at family gatherings. It pairs perfectly with apple slices, graham crackers, and cookies, turning any dip into a dip-tastic delight.
Oh, and did we mention it's a health-conscious superstar? Yep, it's top 9 allergen-free, so there's no one who can't join the Pumpkin Pie Dip party!
In a nutshell (or seed shell...), it's all about capturing that autumn vibe, sharing special moments, and embracing deliciousness in every scoop. It's our way of making healthful choices the easiest, tastiest decision you'll make.